The world that we live in is a cosmic work of art and, here at The Craignair, we are committed to preserving its beauty for future generations. There is a focus on sustainable business practices and implementing "green" measures in everything we do, all while still providing a pleasurable stay, ideal for the socially conscious traveler. Join us for an eco-friendly getaway in Midcoast Maine and have a great time while also contributing to the health of the Earth.

Our Eco-Friendly Efforts
Ensuring that the energy used for day-to-day operations came from a green source was a huge goal for us. Now we can proudly say that over 90% of our energy comes from new sustainable solar panels and battery installations. In addition, Tesla chargers have been set up for guests with electric cars.
Making use of more concentrated cleaners helps us keep plastic bottles out of production by making better use of what we have.
We recycle an estimated 18,000 cans and bottles a year in an effort to ensure that fewer end up in our landfills or oceans.
Sheets we no longer use are donated to the Knox County Homeless Coalition and, similarly, our towels are donated to Pope Memorial Humane Society.
Repurposing around 20,000 lbs. of food waste a year as snacks for our horses keeps them fed and happy.
Switching from disposable straws to reusable metal straws has greatly reduced the amount of plastic waste we produce.
Any shell waste from seafood is repurposed or upcycled with over 10,000 a year used in some form or fashion instead of being wasted.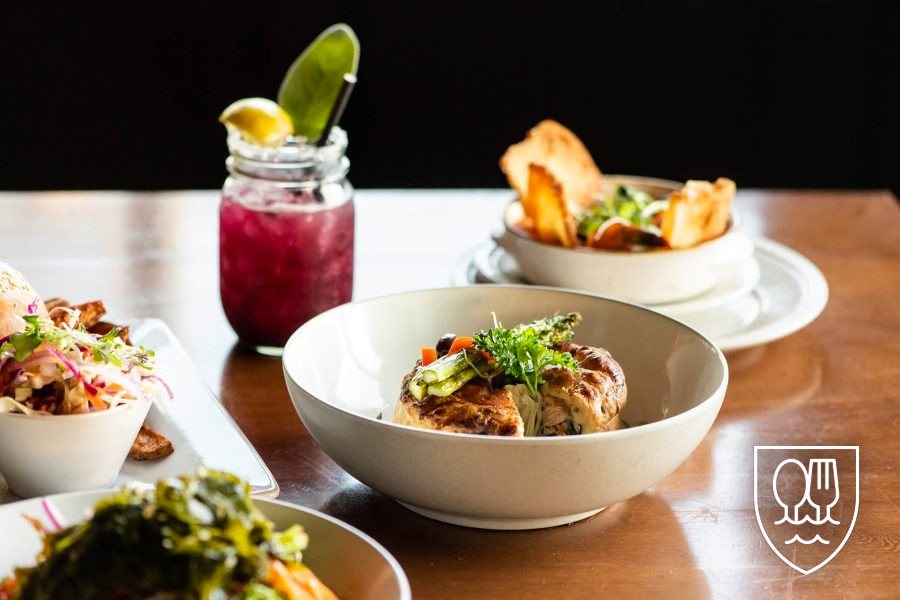 Ocean-Friendly Dining
We are proud to announce that our restaurant, The Causeway, is a proud partner of the Surfrider Foundation. Now officially certified as an ocean-friendly restaurant, we go to great lengths to ensure our practices will help cultivate the ocean's bounty for decades to come. Offering an eclectic selection of seafood and New England-style cuisine in 3 beautiful dining spaces, it's the perfect place to stop by for a romantic dinner or relaxed lunch. Check out our diverse menu with favorites like the always delectable crab cakes or the specialty Maine salmon pie.
Join Us for Beach Clean-Up Day
June 8th is World Oceans Day and Craignair Inn is taking part by hosting a beach cleanup day! Guests staying during this time are invited to take part and help keep our beautiful beaches clean for both visitors and the animals that call them home. Stay in cozy rooms with New England-inspired decor and cozy queen beds for a restful night's sleep. Watch the sunset from your private balcony and take in gorgeous views of the ocean and surrounding area. We offer a luxury experience at our Midcoast Maine bed and breakfast that embraces green practices without sacrificing the quality our guests expect. We hope to see you soon for the beach cleanup or whenever you happen to stop by!