A Magical Time of Year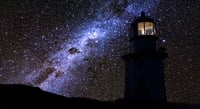 There's nothing more magical than autumn sweeping over coastal Maine! Here at the Craignair Inn, we're gearing up for what is expected to be a colorful, celestial, and cozy autumn. Our guests always remark that there's something about the way blankets and hot chocolate feel extra special when cooler air begins cutting over the rocks along the shore up here in midcoast Maine.
Quite a few of our summer guests ask us if the fall is also a good time to visit Maine. We always tell them that we have many guests who return fall after fall for "golden getaways" during leaf-peeping season. We even had one guest tell us that visiting during fall was like discovering a secret treasure that can only be found once the summer crowds retreat back into "ordinary life."
While the rocky beaches and lapping waves remain once summer is gone, guests enjoy a collage of red, orange, amber, flaxen, and toffee that settles over the landscape. The colors begin edging in by early September, and they wrap the entire landscape just a few weeks after the summer guests have packed up their kayaks and canoes for the season.
Our Favorite Things To Do in the Fall
Fall is the perfect time for hiking, touring lighthouses, taking walks on the beach, or exploring the shops and galleries in the nearby communities of Thomaston, Rockland, Rockport, and Camden. It's very easy to stay comfortable while exploring as daytime temperatures in the area average between 50 and 60 degrees Fahrenheit for most of the fall season.
Maine Open Lighthouse Day
Maine Open Lighthouse Day is an invitation to explore more than two dozen historic Maine lighthouses! Guests can take photos, climb lighthouse steps and learn about the fascinating histories of these maritime lights. Marshall Point, Breakwater Light, and Owls Head are three lighthouses on the tour list that happen to be located a short drive from the Craignair Inn. In fact, you can put these gorgeous lights on your list even if you won't make it up in time for the official "Lighthouse Day" because the truth is that every day is "Lighthouse Day" when your home-away-from-home is a cozy inn by the coast!
Craignair's Fall Skies
The Craignair Inn is also hosting our own "fall skies" event this year. Starting right now, Craignair guests can request their own "Watch the Stars" stargazing kits. Just ask and we'll send you outside with:
Binoculars
Night Sky Almanac
Blanket
Flashlight
This cozy, romantic experience is perfect for anyone who is coming up to the coast for a few nights to escape city skies. Star visibility is amazing this time of year. While our nights do get nippy after August up here in Maine, the warm autumn sun that we enjoy during September and October tends to keep the ground nice and warm for evening stargazing outside.
The Causeway Restaurant is also busy whipping up bone-warming favorites for fall! While specials like our Maine Lobster Croissant, Pan-Seared Maine Coast Scallops, and Grilled Pork Tomahawk taste amazing all year long, our hot Maine Haddock Chowder takes on a special appeal when you're looking for something steamy and creamy to savor!
Of course, our complimentary breakfasts for Inn guests always ensure a hearty start to your morning before you take off on your journey to find the most amazing fall foliage up here in midcoast Maine.
We can't wait to welcome you to the Craignair this fall!
Lauren and Greg
P.S. Did we mention that your dogs will love it here, too? When you search our site to view the Guest Rooms, look for the Pet-Friendly ones!