This past weekend, May 17-18th, marked the opening weekend for our restaurant and also a weekend where the Zoom Multisport Triathlon Team from Boston came to enjoy a weekend of bike and run training.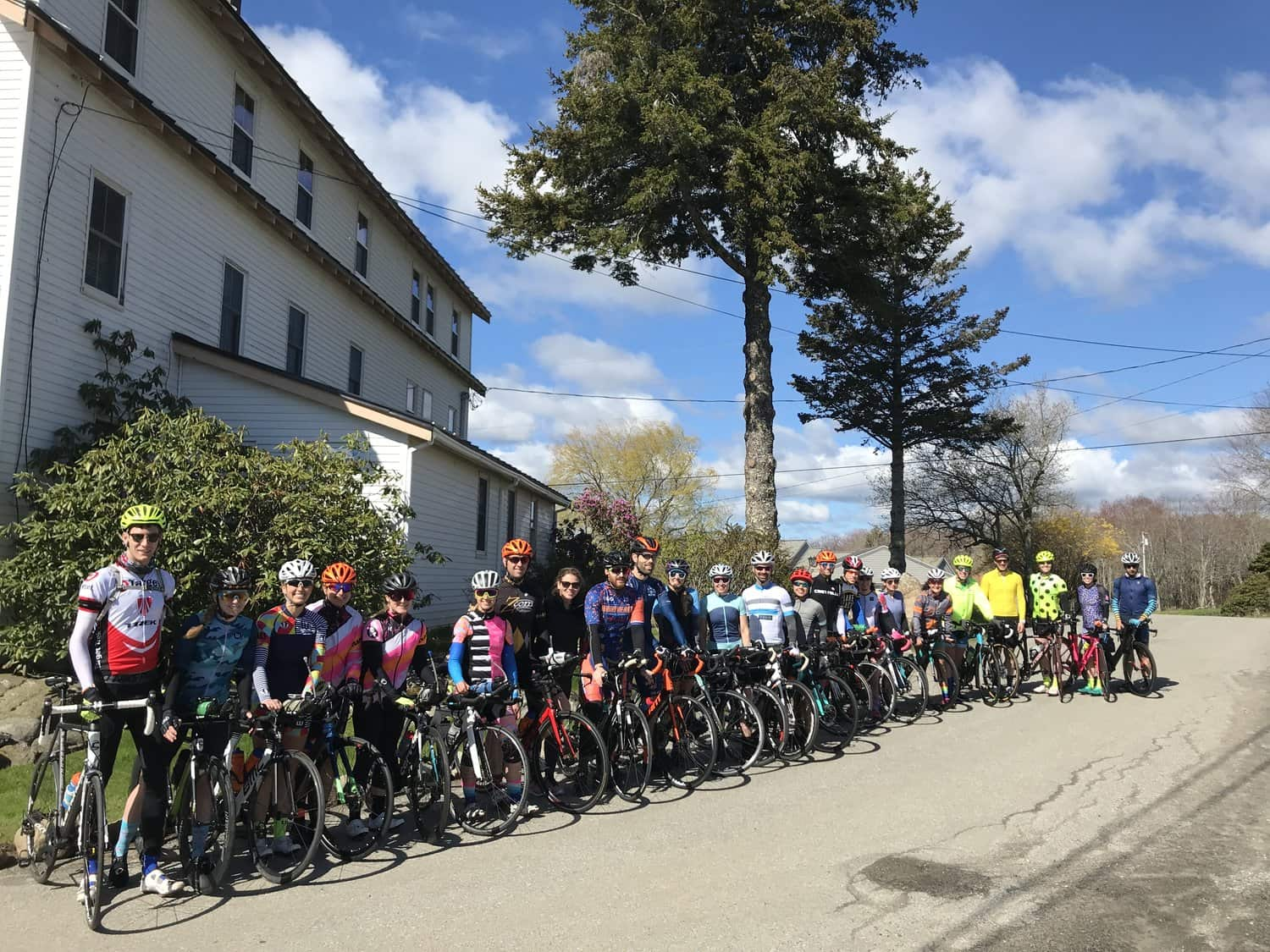 This is the weekend that Lauren and I have been preparing the Inn for now for several months to kick off our season. There was a LONG list of things to accomplish before we got to this point. In the process of getting some big projects taken care of (renovating attic space to an additional guest room, septic installation, porch rebuild, fence building, kitchen renovations, etc.) we quickly found that there were many more "little" (i.e. time consuming) things to do around the Inn to get everything where we'd like it for the season. We know that we wouldn't have made it as far as we did on that list without the help of our family and friends. Lauren's parents Steve and Cheryl and her sisters Kate/Myra have spent several combined weeks at the Inn already helping with many projects like cleaning/painting/organizing the linen room, painting guest rooms, installing new guest room soap dispensers, sewing, trim work, caulking, plumbing, etc.
We also received enthusiastic help from some Boston friends Anthony, Alan & Elizabeth, Tom & Kristin, and Pat who were all able to come up for some weekend visits. Our St. Louis friends John & Jenny also paid a visit and gave us a day of work (plus a couple days of fun). Thank you all!
In addition to all of this help, we've received a great deal of advice and support from our local community since the day we arrived in St. George. We hadn't even finished unloading the moving trucks and one of our new neighbors brought over a welcome bag full of vegan food and treats! Former Craignair Inn owners, the Smith's and Joseph's have also been great assets to us during the first few months learning about the property and history here. It was so great to see them both as well as many of our neighbors and friends during the restaurant's first weekend open and we look forward to more of the same as the summer rolls on.
During the weekend, 17 of our 21 rooms were booked and Saturday night our dining room found itself nearing capacity. The Zoom group of triathletes took part in a Saturday morning group bike ride (the athletes rode between 25 and 100 miles each), afternoon runs around the peninsula, and tried to squeeze in as much of the local environment as they could. On Sunday, many took to the trails of Camden Hills State Park for a group trail run while others went back to the roads for more cycling along the beautiful coastline before heading back to Boston.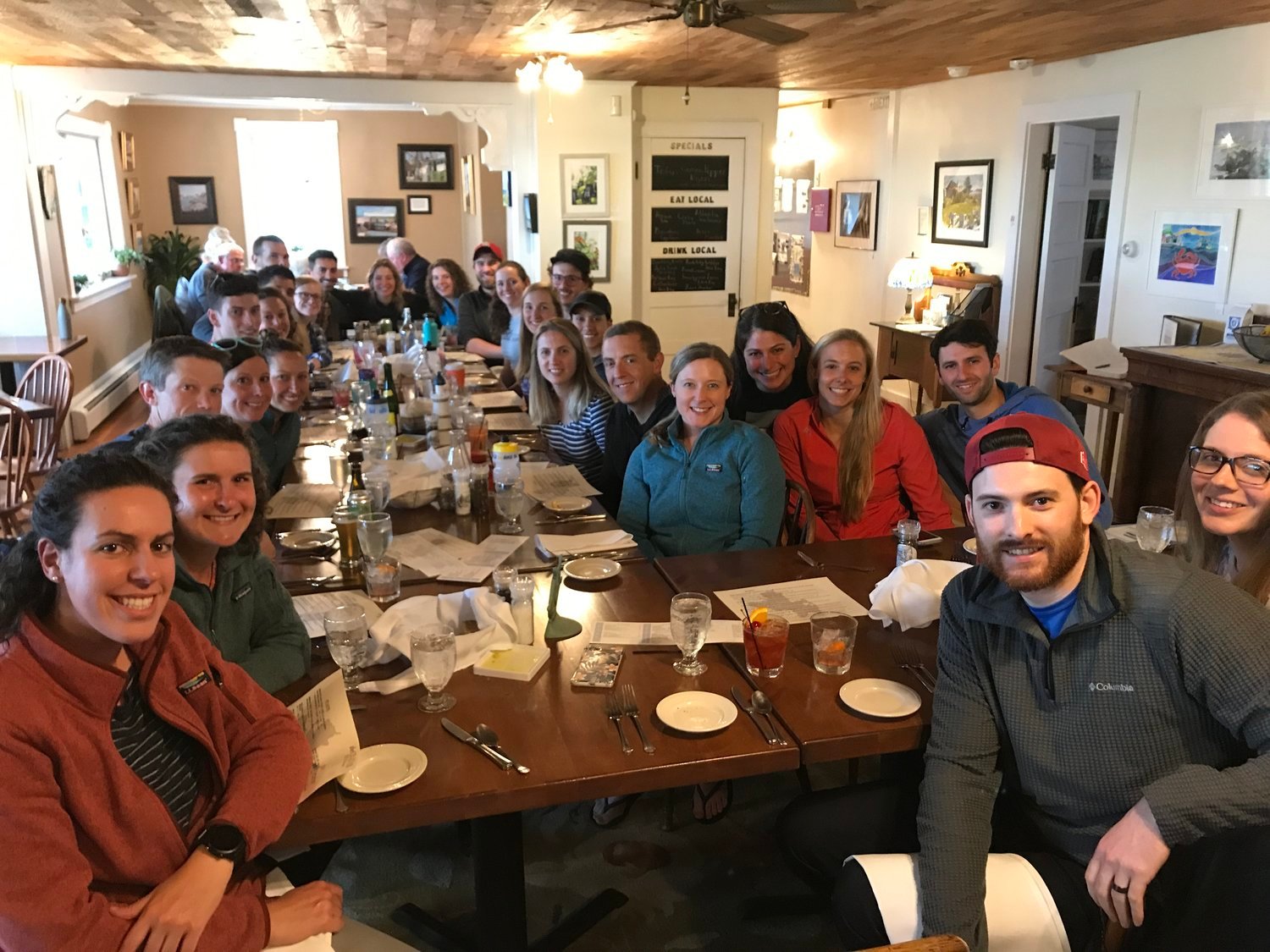 All throughout the weekend the Inn and beyond was filled with the sounds of a crackling fire, laughter, friendship, enthusiasm, love, and even a little bit of mischief. It took nearly every ounce of energy we had to keep up with the weekend, but we couldn't have been happier doing it.
Saturday morning after preparing breakfast for all of our guests we took a minute to pause in the solace of the kitchen and just soak in the laughter and excitement we could hear and even more so, feel coming from the full dining room as everyone began their days. In this moment, we realized that the long hours and hard work we've put in all winter was worth every minute.