Reunite With Your Family on a Maine Trip That Lets You Vacation in Your "Own Little World."
After a year of feeling disconnected from loved ones, many people choose to plan extended-family getaways at lower-profile tourist spots for summer 2021. There's no better way to make up for a year of lost celebrations and special occasions than a custom-made getaway. How can you plan a getaway as wholesome and meaningful as spending time with loved ones again should be? Enjoy days filled with sightseeing, hiking, paddling, or just lazing about capped with cozy evenings around a fire pit overlooking the ocean or an indoor woodstove if the weather takes a blustery turn. A cozy New England bed and breakfast will recreate the feeling of a family gathering place that's been passed down through the generations! Of course, there's a little bit of pressure to pick the perfect spot when you're packing an entire year's worth of bonding and memory-making into a few days.
Here's a checklist for planning a fantastic group vacation with your extended family this summer:
Choose a place with plenty of outdoor appeal and nearby adventures to enjoy!
Select a coastal spot because nothing heals and soothes after a tough year like fresh sea air!
Select a place to book an overnight stay that treats you like family!
Be sure to choose accommodations that include a great restaurant!
Make sure you have easy access to other great attractions in the surrounding area!
Go for a spot that is private and secluded enough to make your family feel like everyone is enjoying "their own little world" without actually straying very far from civilization.
Stay within easy reach of the conveniences and cultural attractions that a Maine coastal city has to offer.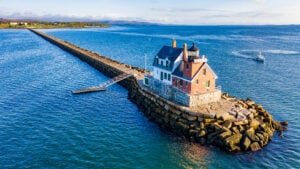 Of course, Rockland, Maine, is a great place to have "nearby" on your East Coast Get-Away! Nestled in the heart of Midcoast Maine, Rockland is beloved by locals and tourists alike and is located just 3.5 hours from Boston by car. Visitors will find fun attractions like the Maine Lighthouse Museum, the Owls Head Transportation Museum, the Rockland Breakwater Light, the Sail Power and Steam Museum, the Center for Maine Contemporary Art, and The Farnsworth Museum. When it's time for a long walk that includes a mile and a half of vendor-free boardwalk and places to sit to watch boats bobbing along their way, the 5-mile Rockland Harbor Trail along the city's waterfront may be just the thing.
Suppose you're ready to make some magical memories on the water with your family this year, with or without days full of sightseeing. In that case, the Craignair Inn by the Sea is the perfect place to "get away" from everything touristy and relax into the comforts of ocean views, sand, rocks, easy hiking, and bird-watching on Clark Island, and plenty of places to paddle. Our beautiful bed and breakfast near Rockland, Maine, offers breathtaking Atlantic views in a semi-isolated setting where you never have to worry about crowds! The Craignair Inn, also home to the popular Causeway Restaurant, is tucked away on the St. George Peninsula between the Marshall Point Lighthouse (featured in "Forrest Gump") and Rockland's city limits. In St. George, you'll also be drawn to the picturesque waterfront villages of Tenants Harbor and Port Clyde.
As part of our commitment to offering a quiet escape for families looking for the ultimate "reunion holiday" experience this year, the Craignair Inn has gone above and beyond to ensure unrelenting cleanliness and comfort for every part of your stay.
And did we mention that Fido is welcome at the Craignair? If this family member is part of your vacation tradition, bring her along! Dogs are always welcome.
---
The Craignair Inn is currently booking reservations for Family Getaways and offers Gift Certificates for future visits. This summer, make up for a year of lost time with an itinerary full of activity-based experiences along Maine's midcoast between Bath and Belfast. For answers to your questions about visits to the Craignair Inn and the Causeway Restaurant, email innkeeper@craignair.com.